Need help finding gluten free, easy-bake oven recipes for your little baker? Look no further! At less than $1 each, these homemade mixes are perfect!
Disclosure: This post contains affiliate links, which simply means I may receive a small commission if you click a link and purchase something that I've have recommended. As an Amazon Associate, I earn from qualifying purchases.
Did you have an Easy-Bake Oven as a kid? I did and I loved that thing! I remember thinking that being able to bake my own little cakes was the absolute coolest! Making my family sweet treats brought me so much joy 🙂
Introduced in 1963, Easy-Bake Ovens are still popular and for good reason too – they're fun, easy to use, and great for kids who love to bake. The one downside is that the Easy-Bake Oven refill mixes can be outrageously expensive (like $8 or more per cake)—and if your child is gluten sensitive or has celiac disease, there are very limited options.
Luckily, you can make your own gluten free Easy-Bake Oven mixes at home for a less than $1 per cake! The recipe I'm sharing today uses simple ingredients that you probably already have in your pantry, and they're so easy to make. Plus, they taste just as good (if not better) than the Easy-Bake Oven mixes!
Is the Easy-Bake Oven Being Discontinued?
Before we dive into the recipe, this is a question I often hear. So let's quickly address it.
The simple answer is no, the Easy-Bake Oven is not being discontinued. The original Easy-Bake Oven with the 100-watt incandescent light bulb was discontinued. It was replaced with a new version, the Easy-Bake Ultimate Oven. This new version is equipped with a dedicated heating element and is safer and more efficient. So kids can continue to enjoy this fun toy for decades to come!
Best Place to Buy Easy-Bake Ultimate Oven
If you are looking to buy an Easy-Bake Oven, steer clear of Amazon. The ovens I saw listed were wildly over-priced (like seriously 4 times more than the MSRP). The best place to purchase an Easy-Bake Ultimate Oven is from Walmart were they are fairly priced at around $45.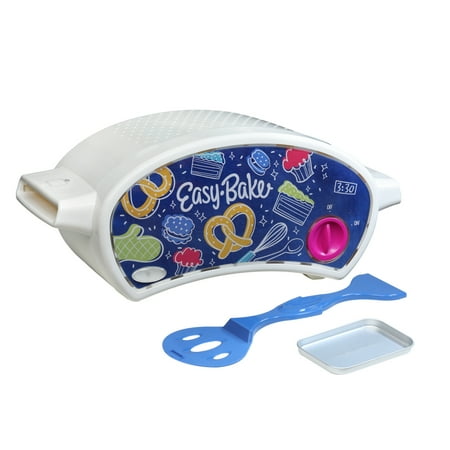 How do You Make Easy-Bake Ultimate Oven Mixes?
Making your own Easy Bake Oven mixes is really simple, in fact, my 9 year old daughter did most of the prep and baking 🙂
How to prep the mixes for this cake:
Using 1 box of gluten free chocolate cake mix (we had Krusteaz mix but any brand will work), measure 1/2 cup of dry cake mix into Ziploc snack baggies.
Next, place a label/directions sticker on each baggie (download pre-made labels here). You can either tape them on or print on Avery's 2″x4″ mailing labels.
And that's it! That's all it takes to prep your own homemade gluten free Easy-Bake Oven recipes!
How To Cook Gluten Free Easy-Bake Oven Recipes
Preheat the Easy-Bake Oven for 20 minutes.
Spray the pan with cooking spray (if needed, Easy-Bake Oven pans can be found here)
Pour the individual baking mix into a small bowl and mix with 4 TBS milk. Stir until the milk is thoroughly incorporated.
Spread the cake batter into prepared cake pan.
Bake for approximately 15 minutes (since these are toy ovens, bake time will vary) or until inserted toothpick comes out clean.
Let cake cool to room temperature and then spread with frosting and enjoy!
As you can see in the photo above, my daughter loves making her own gluten free baked goods for her Our Generation dolls. Two Christmas' ago, she was given a doll kitchen set. She put her little Easy-Bake Oven cake in the doll's oven and it fit perfectly. So cute!
I was also able to find her a children's baking utensils set to use when she does her baking. She absolutely loves it!
Other Gluten Free Easy-Bake Oven Recipes to Enjoy
This same process can be repeated with other gluten free cake mixes too! You could make your own Easy-Bake Oven recipes for strawberry cakes, vanilla cakes, or whatever flavor you want. The possibilities are endless!
There is one thing to be aware of when preparing mixes, however. According to Hasbro, "You can use store mixes as well as gluten free mixes. You cannot use a mix that needs eggs or oil because the Easy-Bake Oven will not cook it for long enough." That is why I only used milk in the recipe above. The cake doesn't taste exactly the same of course, but it's still pretty darn good.
Please Share this Recipe 💕
I hope you and your children love this recipe! Please let me know in the comments below if you have any questions.